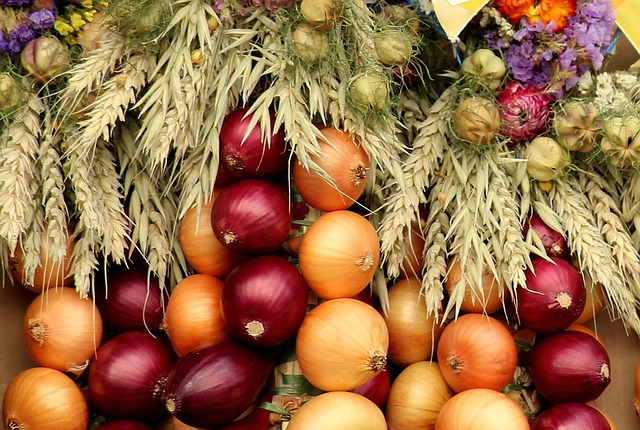 Dieta w zaburzeniach lękowych i fobiach
Wszyscy, którzy cierpią na zaburzenia lękowe i paniczne, a także osoby, które im towarzyszą wiedzą dokładnie, jak trudne jest to doświadczenie. Szukamy wielu sposobów by sobie z nimi poradzić. Warto również sięgnąć po dietę.
Przyjrzyjmy się najpierw substancjom, które mogą pogłębiać to zaburzenie. To przede wszystkim kofeina i nikotyna.
Kofeina, jest substancją pobudzającą, przez co może zaostrzać lęk i fobie. Jej nadmierna ilość może wywołać atak paniki, powodować stan chronicznego napięcia i wzbudzenia, co przyczynia się do zwiększenia podatności na lęk uogólniony. Ponadto może wywołać stres, poprzez usuwanie z organizmu witaminy B1. Zmniejszenie spożycia kofeiny zwykle pozytywnie wpływa na sen i uspokojenie organizmu. Warto, więc, ograniczyć ją do 100mg dziennie, czyli np. do jednej kawy z ekspresu. Jeśli jednak jesteś osobą wrażliwą na kofeinę warto ją całkowicie wyeliminować z diety.
Kofeina obecna jest w kawie, herbacie, napojach typu coca-cola, cukierkach czekoladowych, kakao, lekach sprzedawanych bez recepty.
Drugą substancją silnie pobudzającą jest nikotyna. Powoduje wzrost pobudzenia fizjologicznego, zwęża naczynia i utrudnia pracę serca, przez co przyczynia się, do zwiększenia zaburzeń lękowych. Osoby palące często mają poczucie relaksu po wypaleniu papierosa. I faktycznie jest to możliwe, ponieważ zaciągając się dymem tytoniowym doświadczają skupienia na głębokim oddechu. Może, więc, warto zastąpić papierosa kilkoma głębokimi oddechami i sprawdzić co się wydarzy.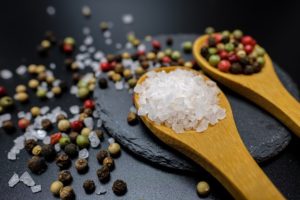 Czy istnieją substancje wywołujące stres w organizmie?
Tak, należą do nich m.in. sól i wszelkiego rodzaju konserwanty.
Nadmiar soli kuchennej w organizmie powoduje stres na dwa sposoby:
1) obniża poziom potasu – pierwiastka odpowiedzialnego za prawidłową pracę układu nerwowego oraz
2) podnosi ciśnienie krwi, dodatkowo obciążając serce i tętnice; przyspiesza miażdżycę.
Spróbuj zmniejszyć ilość spożywanej soli unikając stosowania soli kuchennej, ograniczając spożycie słonych mięs, przekąsek  i przetworzonych produktów spożywczych. Najlepiej ograniczyć spożycie soli do pięciu gramów lub jednej łyżeczki dziennie.
Konserwanty (azotyny, azotany, glutaminian sodu, dwusiarczek potasu, butylohydroksytoluen (BHT), butylohydroksyanizol, sztuczne barwniki, dodatki )  to kolejne substancje przyczyniające się do zwiększenia stresu w organizmie. Są chyba najbardziej popularnymi substancjami chemicznymi stosowanymi w żywieniu. Nie do końca wiadomo, jaki mają wpływ na nasze zdrowie. Na pewno jednak, przyczyniają się do zwiększenia zachorowalności na raka. Dlatego warto stosować jak najmniej przetworzonej żywności.
Czy moje nawyki żywieniowe mogą wpływać na lęk?
Niestety tak. Nazywa się to stresującymi nawykami żywieniowymi. To co jesz i jak jesz może wywołać stres w organizmie. Poziom stresu podnosi się, gdy:
Jesz w biegu i zbyt szybko
Nie przeżuwasz każdego kęsa co najmniej 15-20 razy (żywność musi być wstępnie przetrawiona w jamie ustnej, by mogła być lepiej strawiona w przewodzie pokarmowym)
Zjadasz zbyt dużo jedzenia na raz, aż do uczucia przepełnienia i wzdęcia
Wypijasz zbyt duże ilości płynów po posiłku, co rozrzedza kwas żołądkowy i enzymy trawienne. Wystarczy jedna filiżanka płynu na posiłek.
Zwiększa to poziom stresu poprzez: niestrawność, wzdęcia i skurcze żołądka oraz złe wchłanianie niezbędnych składników odżywczych.
Kiedy pożywienie jest nieprawidłowo strawione w ustach i żołądku większa jego cześć przechodzi do jelita, gdzie ulega gniciu i fermentacji, powodując wzdęcia, gazy i skurcze. Dzięki temu otrzymujemy zmniejszoną ilość składników odżywczych, co prowadzi do subtelnej formy niedożywienia, z której najczęściej nie zdajemy sobie sprawy.
Czy są produkty spożywcze, które mogą niekorzystnie wpływać na zdrowie, mimo, że są nam potrzebne do życia?
Tak, o jednym z nich było już wspomniane, czyli sól. Do tego możemy dołączyć cukier i produkty pochodzenia zwierzęcego.
Cukier, jest na pewno spożywany przez nas w nadmiarze. Znajduje się on w większości produktów spożywczych. Kiedy występuje w produktach naturalnych takich, jak chleb, płatki zbożowe, ziemniaki, warzywa, owoce, makaron, jest dla nas względnie korzystny. Gorzej, gdy zjadamy go w nadmiernych ilościach pod postacią prostych cukrów (cukier biały, brązowy, miód). Zbyt duże ilości powodują przeciążenie organizmu, co jest prostą drogą do cukrzycy. Paradoksalnie nadmierne spożycie cukru może również prowadzić do okresowych, nagłych spadków jego stężenia we krwi, co powoduje hipoglikemię. Jej objawy to zaburzenia równowagi, lęk, drżenie, uczucie chwiania lub słabości, drażliwość i kołatanie serca. Objawy te są bardzo podobne do objawów ataku paniki i czasem zdarza się, że atak paniki może być wywołany hipoglikemią.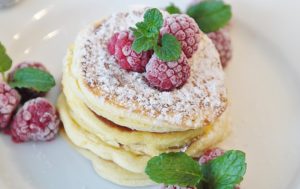 Warto wyeliminować cukry z jadłospisu, w szczególności cukierki, lody, desery, coca-colę, pepsi, kolorowe napoje butelkowane. Dobrze też zrezygnować z miodu, syropu kukurydzianego, słodzików, melasy, stężonej fruktozy. Unikaj suszonych owoców i soków owocowych, a także przetworzonych produktów. Lepiej zjedz więcej świeżych owoców. Zastanów się również nad wyeliminowaniem prostych skrobi typu makaron, rafinowane płatki zbożowe, frytki, białe pieczywo. Zamiast tego jedz pełnoziarniste pieczywo i płatki oraz inne pełne ziarna. Suplementuj dietę: kompleksem witamin,  witaminą C, chromem, glutaminą.
Druga grupa to wszystkie produkty pochodzenia zwierzęcego (mięso, jaja, ser itp.). Zachęcam do ograniczenia ich spożycia, ale niekoniecznie do rezygnacji z nich. Osoby, które decydują się na zmniejszenie spożycia mięsa zyskują większy spokój. Mięso i nabiał, zupełnie jak cukier i rafinowane produkty mączne, powodują zakwaszanie organizmu. Po ich strawieniu zostaje w organizmie kwaśny osad. Przyczynia się to do dwóch problemów:
1) wydłużania czasu transportu przez przewód pokarmowy, co powoduje obniżenie wchłaniania witamin i minerałów. Zmniejszona ilość witamin z grupy B, witaminy C i składników mineralnych może delikatnie obciążyć organizm i w konsekwencji doprowadzić do lekkiego niedożywienia. Przyjmowanie suplementów, niestety, niewiele tu zmienia.
2) w wyniku przemian metabolicznych pokarmy pochodzenia zwierzęcego, rozkładają się na substancje, które ulegają gromadzeniu się w organizmie. Powoduje to odczucie zmęczenia i ospałość oraz wytwarzanie nadmiernej ilości śluzu i problemów z zatokami. Zwiększa to stres w organizmie i odczucie lęku.
Czy są w ogóle jakieś produkty, które można jeść?
Jak najbardziej. Sięgajmy po produkty tzw. zasadotwórcze, czyli takie, które nie zakwaszają organizmu. I są to: wszystkie warzywa, większość owoców z wyjątkiem śliwek, pełnoziarniste produkty zbożowe (ryż brązowy, kasza jaglana, kasza gryczana) i kiełki. Można oczywiście jeść również produkty pochodzenia zwierzęcego, ryby i produkty rybne, orzechy, nasiona, przyprawy. Najzdrowszy jest oczywiście umiar.
Zachęcam również do suplementacji diety. Oczywiście najlepiej byłoby jeść wszystkie produkty pełnowartościowe i w takiej ilości, by zaspokoić wszelkie potrzeby organizmu. Jednak czy dzisiaj jest możliwe znaleźć pożywienie w pełni dla nas dobre?
Jakie jeść suplementy diety przy zaburzeniach lękowych?
Polecane są przede wszystkim witaminy z grupy B. Są one niezbędne do podtrzymania prawidłowego funkcjonowania układu nerwowego. Ich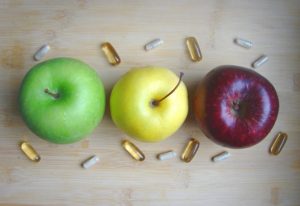 niedobór prowadzi do lęku, drażliwości, nerwowości, zmęczenia i chwiejności emocjonalnej. Najlepiej jest spożywać wszystkie jedenaście witamin z grupy B w postaci kompleksowego suplementu, ponieważ wzmagają one wzajemnie swoje działanie.
Drugim ważnym suplementem jest witamina C. Wzmacnia ona układ odpornościowy oraz ułatwia leczenie infekcji, chorób i urazów, wspomaga również nadnercza mające ważne działanie w radzeniu sobie ze stresem.
Wapń – trzeci ważny składnik – ma uspakajający wpływ na układ nerwowy, a czasem traktowany jest nawet  jako środek przeciwlękowy. Spadek poziomu wapnia może doprowadzić do nadmiernej aktywności neuronów, co może przyczyniać się do zwiększenia lęku.
Zachęcam do rozmowy z lekarzem na temat suplementacji diety.
Czy można się uspokoić naturalnymi środkami?
Tak, można korzystać z ziół. Proszę, jednak, by skonsultować to z lekarzem prowadzącym. W literaturze polecane są dwa rodzaje ziół: waleriana i dziurawiec. Waleriana ma działanie przeciwlękowe i sedacyjne (zmniejsza napięcie i niepokój). Jest skuteczna w leczeniu łagodnego i umiarkowanego lęku. Wspiera dobry sen – redukuje czas zasypiania i poprawia jego jakość. Czasem by uzyskać efekt należy przyjmować ją dwa, trzy tygodnie.
Dziurawiec stosowany jest do leczenia łagodnej i umiarkowanej depresji oraz lęku. Istnieją dowody na to, że dziurawiec zwiększa stężenie trzech neuroprzekaźników związanych zaburzeniami lękowymi: serotoniny, noradrenaliny i dopaminy. Efektem ubocznym może być nadwrażliwość na światło słoneczne. Aby sobie z tym poradzić należy stosować wysokie filtry ochronne, np. 30 lub 50 SPF.